Here is a selection of hotels which have offered us preferential prices. You need to write directly to them and inform them that you are a guest of Sofia University, conference New Paradigms in English Studies, in order to get the discount.
The methods of booking and payment can be negotiated with the hotel; generally, they expect either a bank transfer or a credit card number in order to secure your booking.
Sofia City Hotel (Best Western Premier Collection),  a smart and elegant hotel in central Sofia, and the location where the conference dinner will be held. Walking distance from Sofia University (about 10 minutes). Preferential price for conference guests: 60 Euro for a single, 70 Euro for a double room, including a rich buffet breakfast.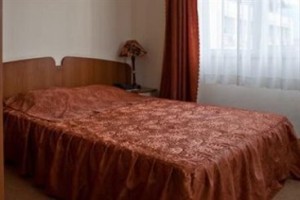 Slavyanska Beseda Hotel, a low cost hotel at the very heart of the city center, 6-7 minutes walking distance from Sofia University. The hotel has a long and interesting history. Preferential prices for conference guests start from 22 Euro for a single budget room, 28 E for a double room, 35 E for a triple room. Standard, renovated rooms come at 29 E single, 32 E double, 45 E triple room.  Breakfast is offered at 3 Euro.
L'Opera House is a guest house rather than a typical hotel (so no 24-hr reception desk), perfectly located at the center of Sofia, in close proximity to the National Opera House, the Alexander Nevski Cathedral and 7-8 minutes from Sofia University. It is located in an elegant old building (no elevators). The ten rooms are renovated and in good condition, each with a different design and most of them equipped with a computer. Prices are between 34 and 55 Euro for double rooms, with a 10% discount from the listed prices for conference guests. Breakfast is included.
N. B.  Please note that November is a busy conference month and hotel rooms fill up fast. If you are traveling alone but would like to share a room with another conference guest, please let us know and we will try to help.